Amazon ist eine sehr gefährliche Anlaufstelle beim Surfen, schnell hat sich dort ein Artikel in den Warenkorb eingefunden. Ich habe es wieder mal nicht lassen können denn es war einfach zu verlockend :D
Dieses mal bin ich bei einem 5″ TFT Touchscreen für den Raspberry Pi schwach geworden. 5″ eine Größe die nicht zu den sonstigen Briefmarken TFT's gehört und mit 800x480px Auflösung auch mehr Fläche für den Raspbian Desktop bietet.


Was mir an dem Display auch sehr gut gefallen hat war der HDMI Connector. Über diesen könnten auch andere Geräte angeschlossen werden, dies habe ich aber noch nicht ausprobiert. Der RPi findet über einen U-förmigen HDMI Winkelstecker Anschluss. Außerdem existiert noch ein Stecker der die GPIO Pins nutzt, ich gehe davon aus dass dort der Strom für das Display abgegriffen wird, die Touchinformationen müssen ebenfalls irgendwo übertragen werden. Neben HDMI und GPIO gibt es noch eine Mini USB Buchse um das TFT schätzungsweise mit Strom standalone zu versorgen.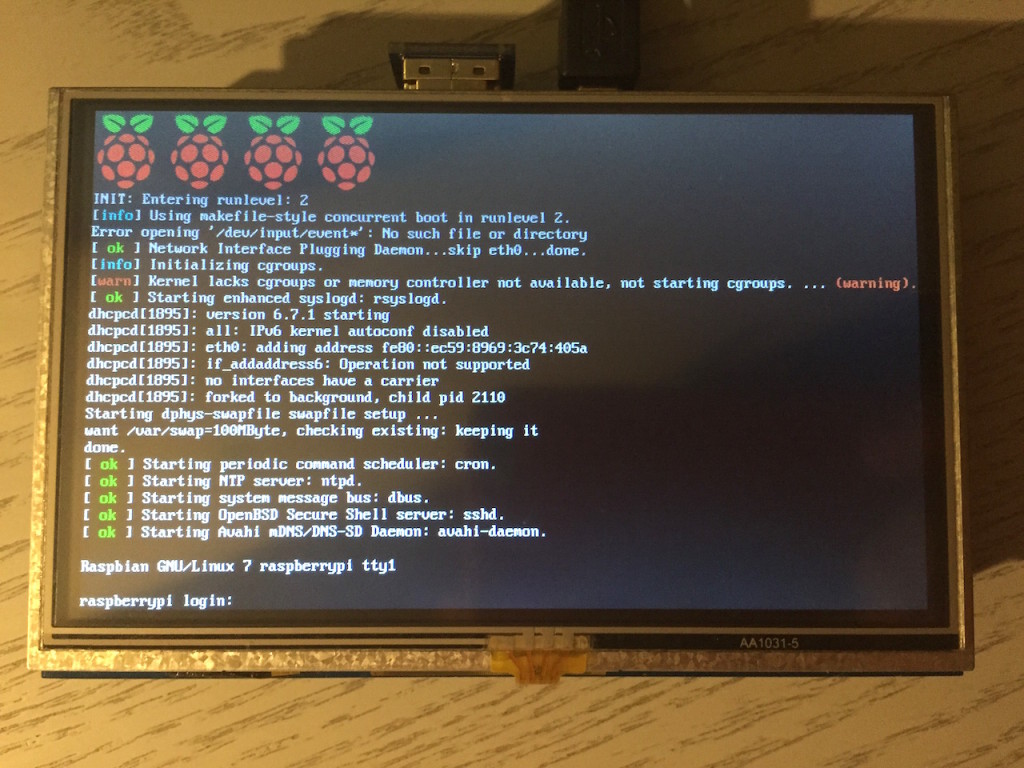 Nach dem anstecken und booten in das Raspbian Image wird nicht gleich von Beginn an die volle Auflösung genutzt. Theoretisch könnte das mitgelieferte Raspbian Image genutzt werden, dies ist aber nicht zwingend notwendig, da die nötigen Einstellungen selbst schnell vorgenommen werden können.

In der Datein /boot/config.txt müssen folgende Zeilen einkommentiert bzw. angepasst werden:
# uncomment if hdmi display is not detected and composite is being output
hdmi_force_hotplug=1

# uncomment to force a specific HDMI mode (here we are forcing 800x480!)
hdmi_group=2
hdmi_mode=1
hdmi_mode=87
hdmi_cvt 800 480 60 6 0 0 0
start_file=start_x.elf
fixup_file=fixup_x.elf
#gpu_mem=128
Das war es auch schon! Beim nächsten Neustart wird die volle Auflösung des Displays genutzt.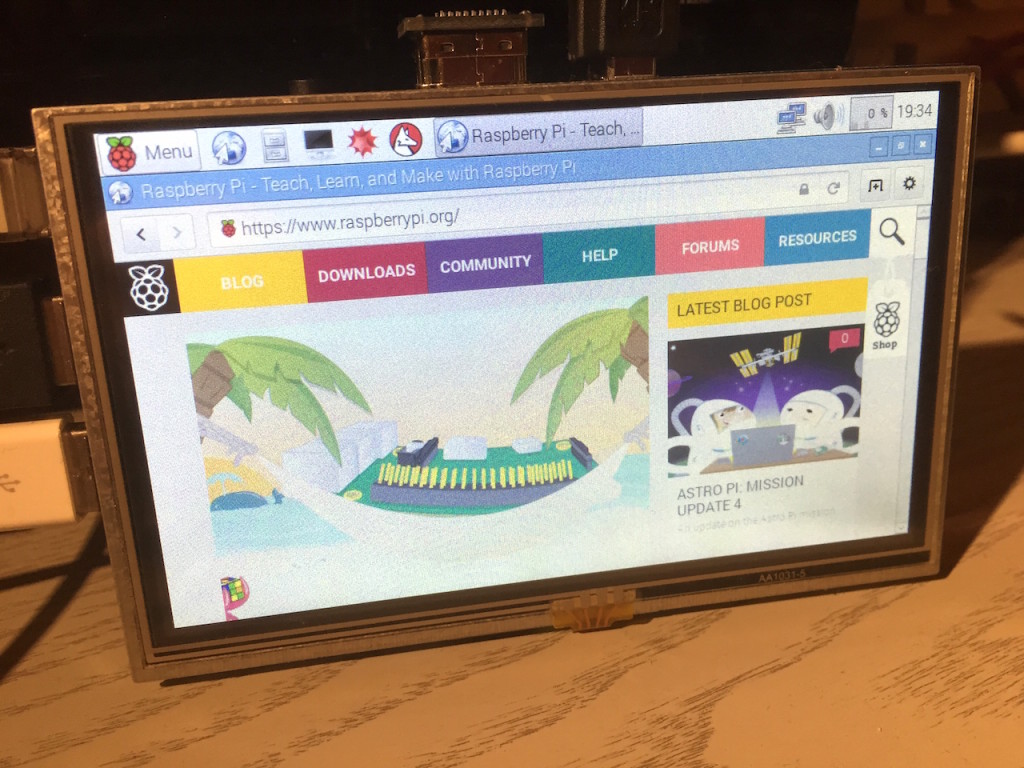 Der gestartet Raspbian Desktop ist nicht üppig, aber durchaus akzeptabel.
Die Touchfunktion habe ich noch nicht ausprobiert, dazu muss von der mitgelieferten CD ein Treiber installiert werden. Evtl. hole ich das in einem weiteren Beitrag nach.
Anbei noch die Anleitung zum Display selbst damit man sich einen besseren Überblick verschaffen kann: 5inch-HDMI-LCD-UserManual-EN